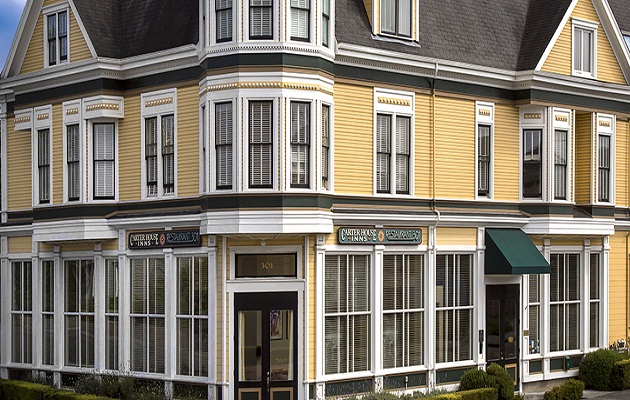 If you've been thinking about booking the deal that we've been talking about for Carter House Inns in Eureka, here's the details:
If you want to book the deal we've been talking about, here's the deets: 
The Valentine's Couples Retreat for $450 includes a Really Nice Queen, Discovery dinner for 2 which is a five course meal from our 4 Star restaurant and roses in the guest room.
Here's the website:
Phone Number:
800-404-1390
If you want to relive our awesome weekend, here's our blog!!!
I would say that our getaway to Carter House Inns was one of the best romantic getaways we have EVER HAD. In fact…Rob would say that too. It was sort of spontaneous.  We decided on the THURSDAY night before we left that we were going to go off to this awesome place. We were intrigued…a series of Victorian houses? Cool. Let's go.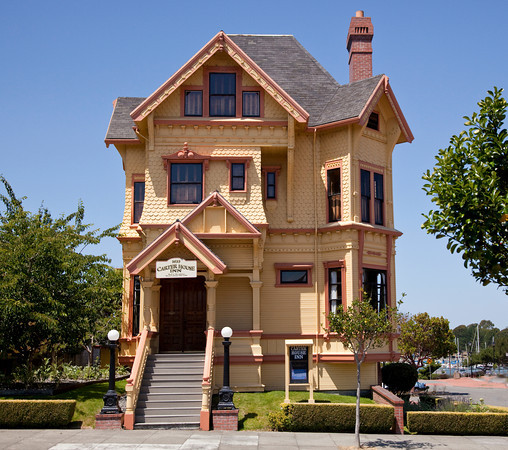 AND Eureka is far enough away to feel like you are getting away…but not TOO far away. If you haven't been up through Northern California in awhile (you know…past us here in Sonoma County) the drive is INCREDIBLE. The huge redwoods. So pretty. We even saw a rainbow – I figured that was a good omen.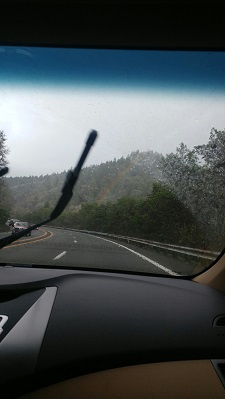 (OK, so the rainbow is a little hard to see in the pic…but trust me! It's there!)
The drive took between 4 and 5 hours and it was super easy. The further North you get, the less congestion you have. We rolled into Eureka at about 6:15 and Rob parked the car while I checked in. The first thing I saw behind the lobby was the AMAZING bar! I was like "This is COOL"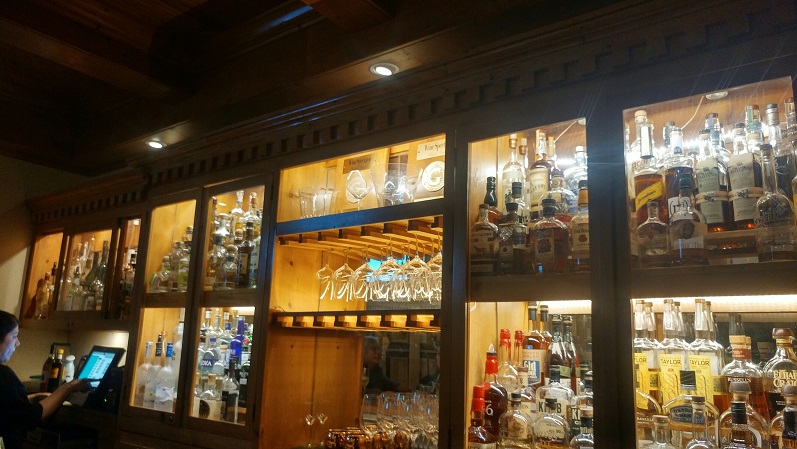 The people at Carter House Inns are REALLY nice and they want to make sure that your stay is really special. The houses are so quaint and cute, that for some of them, you don't get a room card, you get a KEY! Daniel checked us in and Angela took us over to our guest house. It was crazy, she goes, I'll take you to the house. We walk across the street, and I am thinking "Well, there must be lots of rooms in that house" She opens the door and goes "OK! Here's your house!" I was like "THE WHOLE THING?" We were in Carter Cottage. You can get one of their stand alone cottages or one of their adorable rooms (more on those in a sec)
Here's our house, it's called Carter Cottage. Carter House Inns has stand alone cottages AND guest rooms, like the Really Nice Queen Room that comes with the Valentine's Day Package.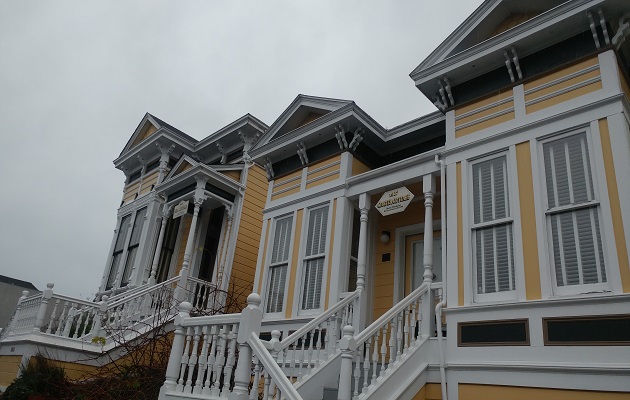 Here's a video tour of our house:
There were GORGEOUS fresh roses in our room to add pretty and romantic touch to our early Valentine's weekend.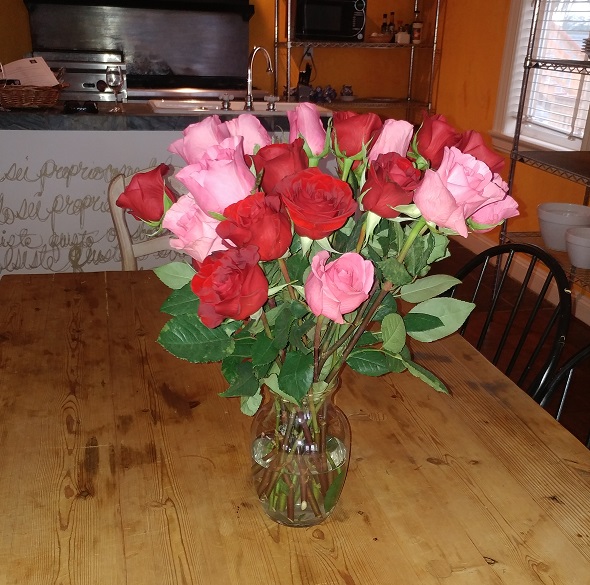 The fireplace was lit and ready for us.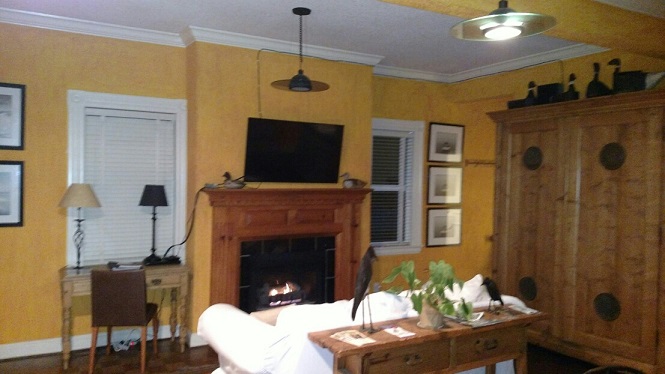 There was a cool "honor basket" in our room too, in case we needed (or wanted) anything.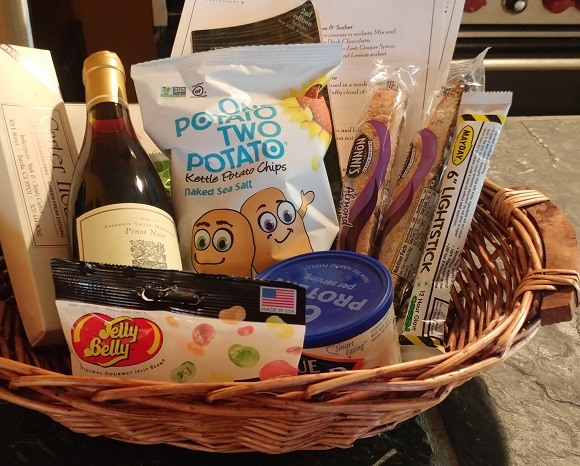 I was SUPER EXCITED about our Keurig coffee maker in our room. I have one at home and I like my coffee IMMEDIATELY in the morning, so this was a good thing.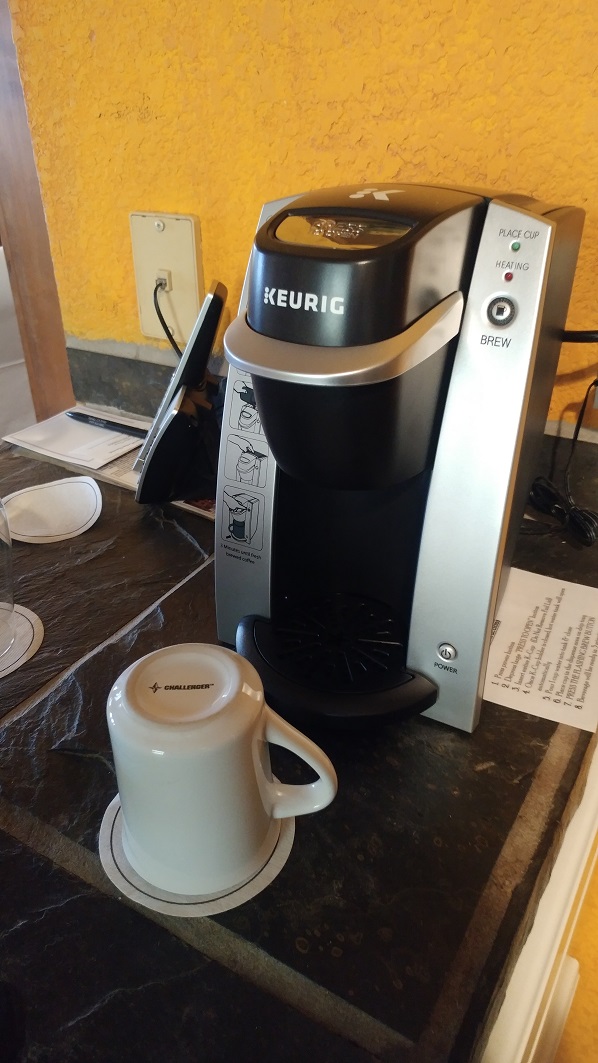 We even found a note on our bed welcoming us! Nice touch!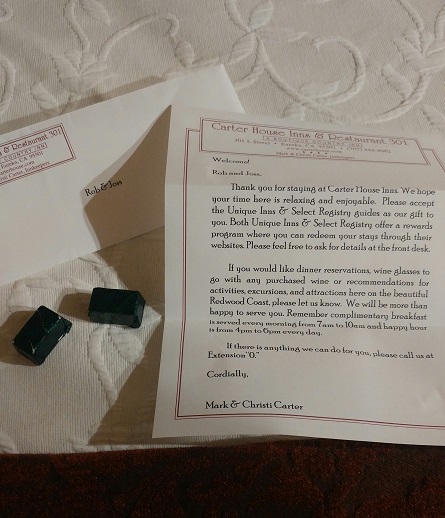 We took a look around, put our bags down and I excitedly called my mother to tell her how AWESOME the place was! Did I tell you our place had a huge patio that backed up to Humboldt Bay? Amazing.
THEN we got ready to start our evening with a complimentary glass of wine at that really cool bar. The service at the bar was so much fun. Alicia was our bartender and she had an awesome personality. We had our glasses of wine and then she taught us about doing shots of tequila "Greek Style" where you chase your tequila with a slice of orange dipped in cinnamon! We like this. We are going to continue to do this.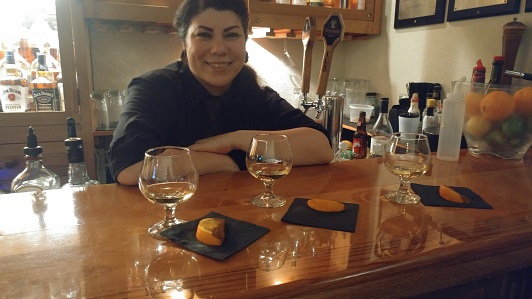 We learned at the bar that Carter House Inns has their own special wines. The Carters are also a partner with Envy Wines in Napa! So, you'll find this fabulous wine at the Carter House Inns.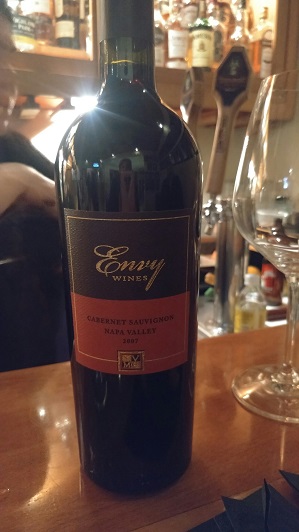 We also knew the place was good cuz there were awards! Awards everywhere!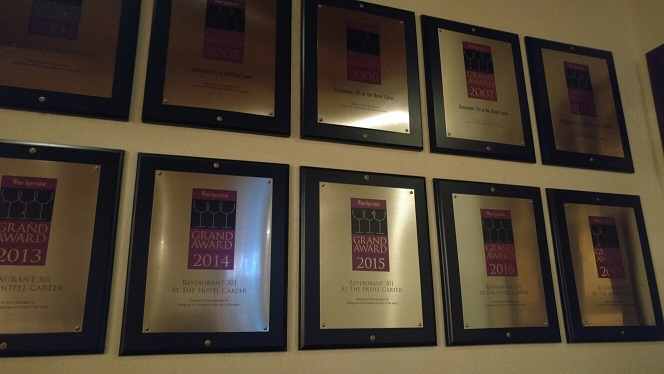 For dinner, we had reservations booked for Saturday at Restaurant 301 the super romantic 4 star restaurant at Carter House Inns and we wanted to keep that special (and it WAS, more on THAT later) so we ventured in to Old Town Eureka and we found a restaurant with OYSTERS! I am always down with oysters.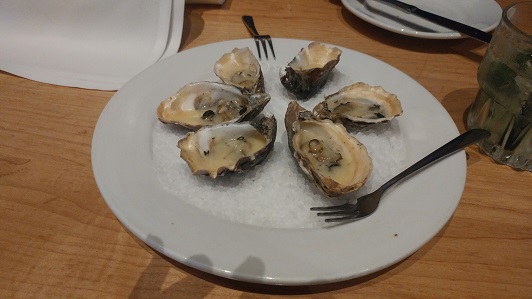 After dinner, we were VERY excited to get back to our romantic little cottage with it's fireplaces, big bedroom and jacuzzi tub (which I took advantage of as I never have time to take a bath at home!)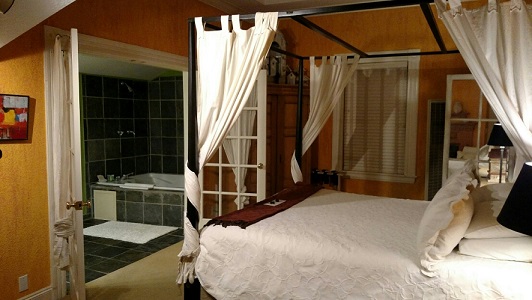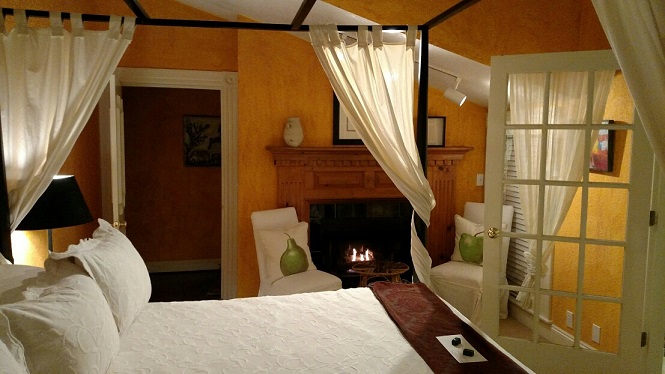 The next day we went to breakfast right next door in the original Carter House for breakfast. They have rolls and fruit and coffee and tea and then a hot breakfast dish. I had the quiche. It was fabulous.
Here's some breakfast room pics: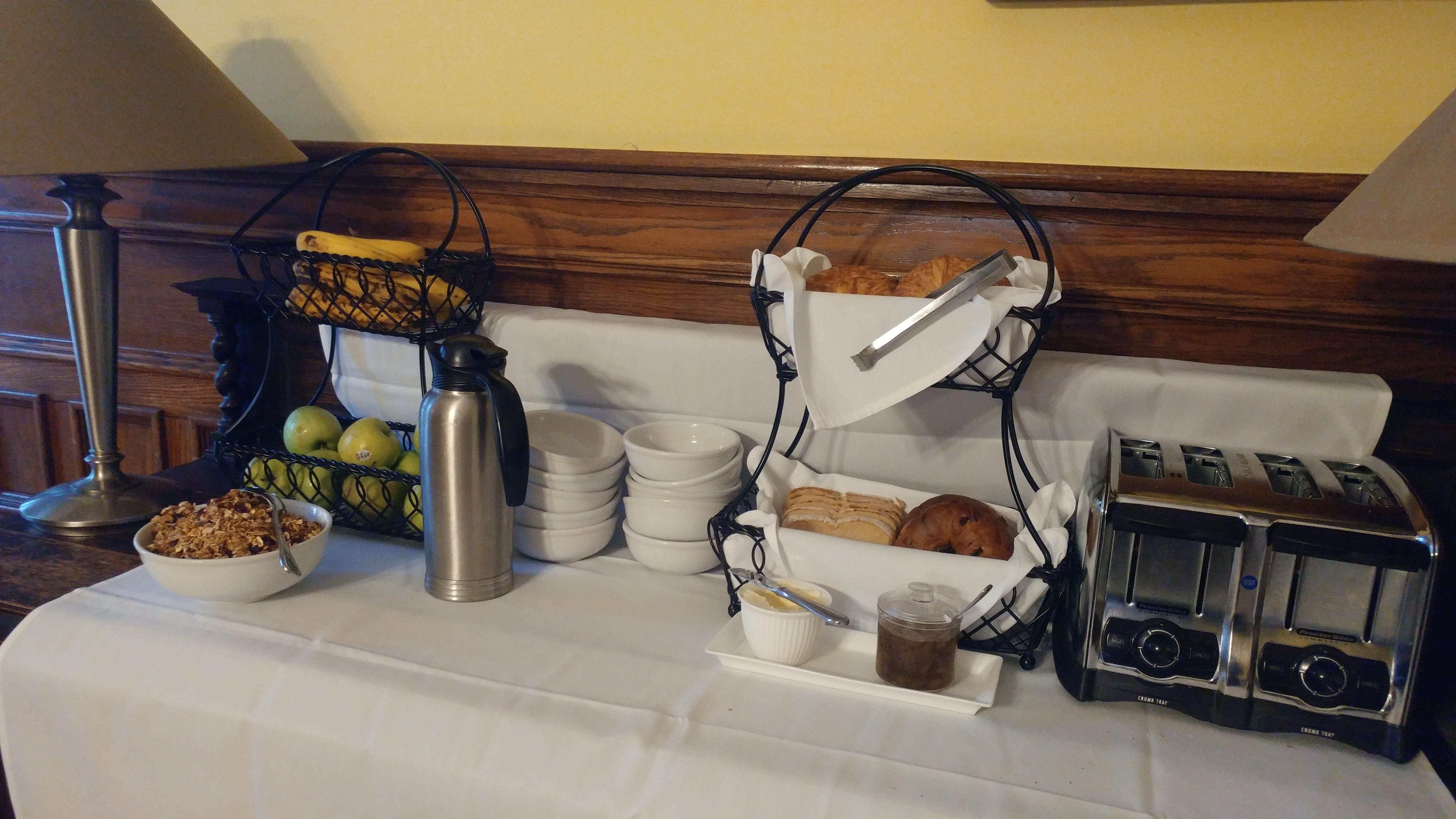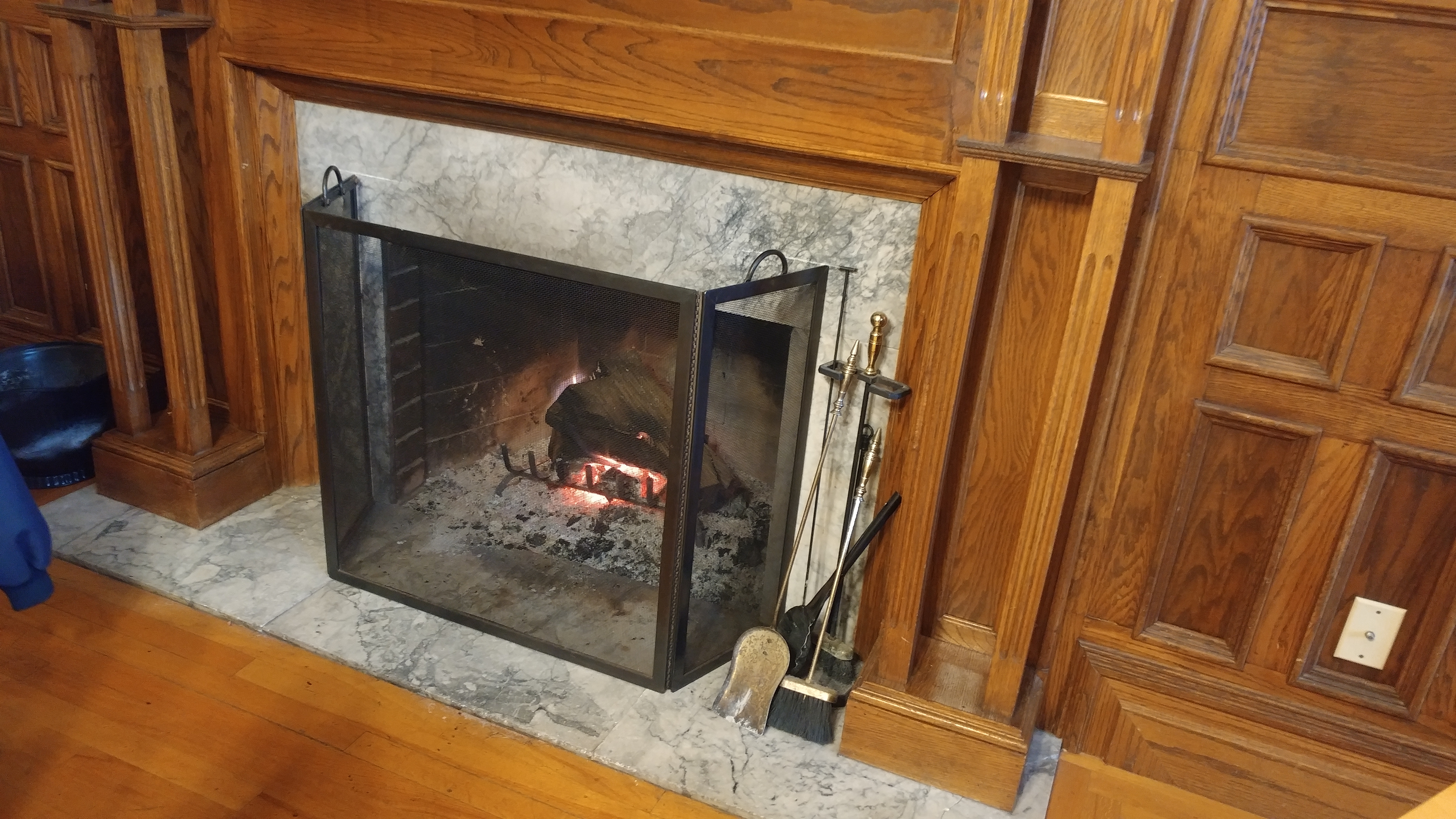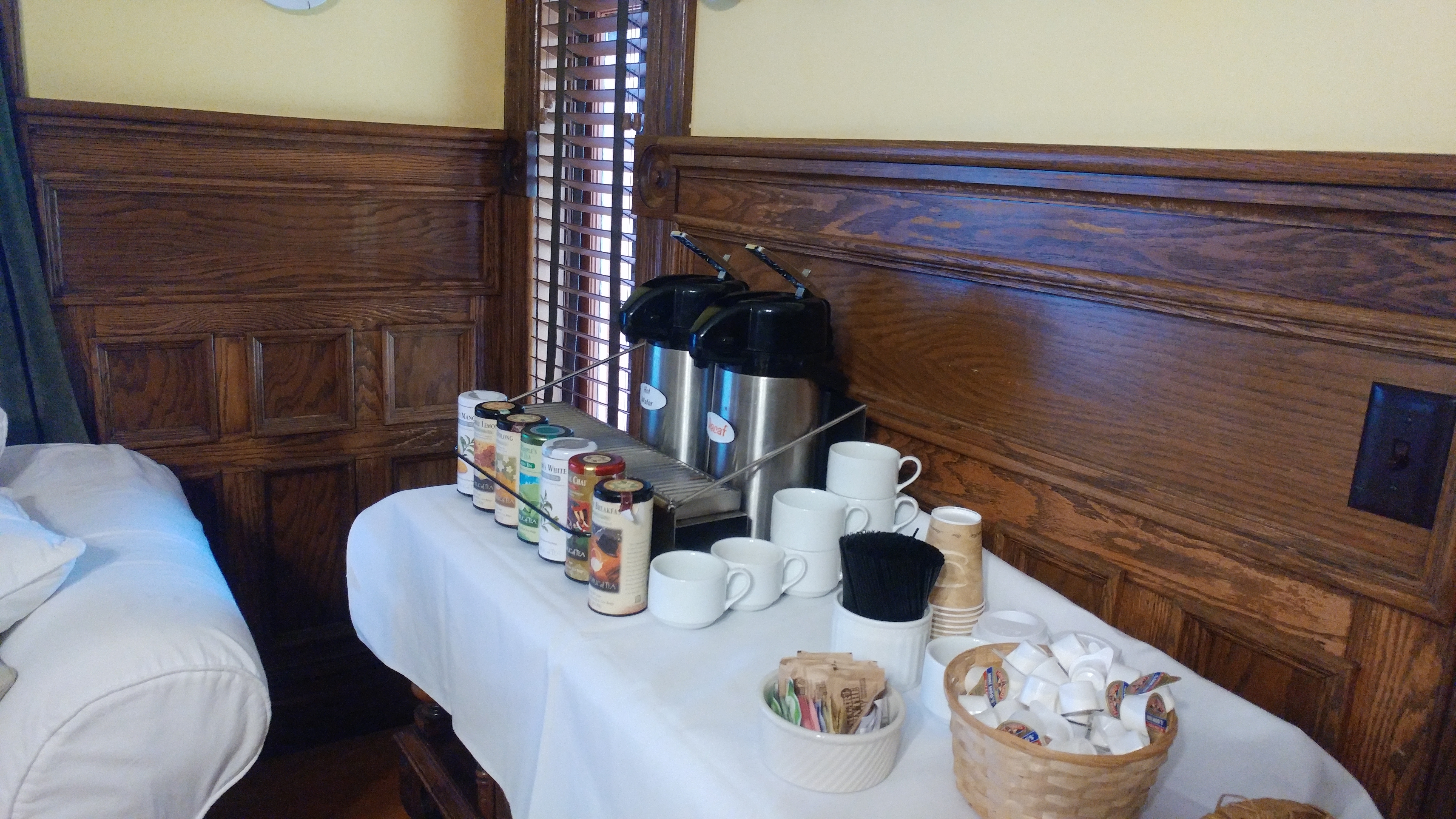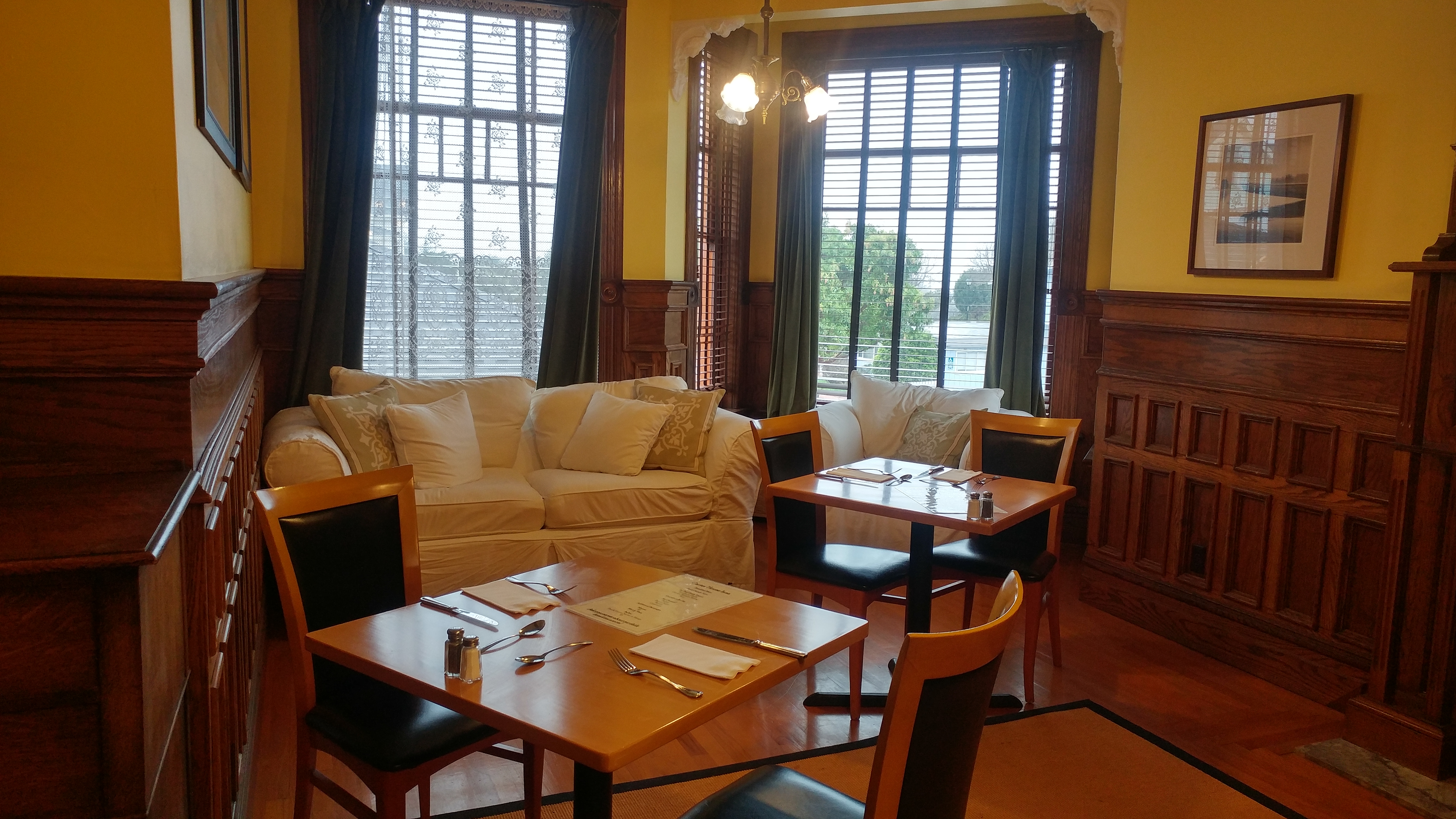 Then the nice people at Carter House Inns took us on a tour of their houses and rooms. There are several stand alone houses you can rent and then there's really pretty rooms you can rent in the two main Victorian Houses.
The staff at Carter House Inns wants to make sure you have everything you want for your stay. One guest requested a picture of David Bowie in their room…SO a picture of David Bowie they got!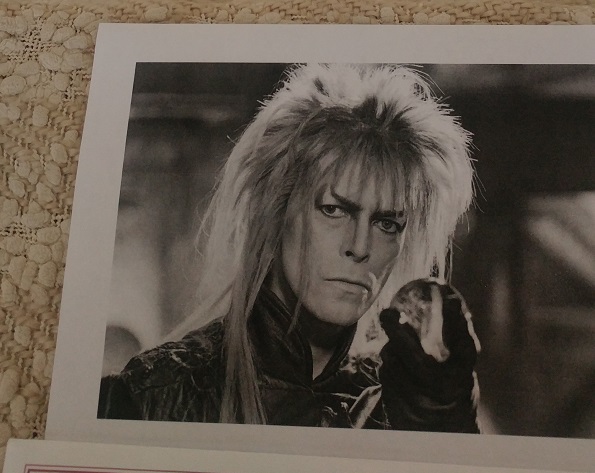 They also took us into their secret wine cellar. Carter House Inns is known for their great selection of wines.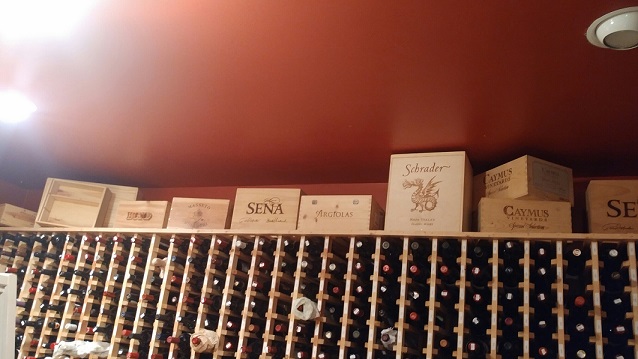 We took tours of some of the other rooms too and they're all very cute and classy.
There is lots to do in Humboldt County.  You can go to the coast, see the big redwoods, there's a zoo, there's a freshwater lagoon, the Trinidad Memorial Lighthouse, the Chandelier tree…LOTS. We went on a drive up North and checked out Trinidad and we walked a bit on the beach.
Eureka is full of Victorian houses. They are like the dollhouses of your childhood. Mark Carter himself restored many of them. AND there's a big ol' mansion called the Carson Mansion.
We went back to the room and took a nap. If you want the truth, we were so relaxed that day, Rob took two naps and I took three! Then, we had dinner at Restaurant 301. I WISH I had more pictures of this dinner. I was just SO in the moment and enjoying it that I didn't even think to pick up the camera! This was a 5 course meal. We started with potato leek soup, Rob had a gnocci appetizer and I had the best crab cakes I've EVER had, there was a lemon sorbet in between (to cleanse the pallet), and then Rob had filet mignon and I had pasta. It was awesome. I DID however get a pic of Rob's Manhattan!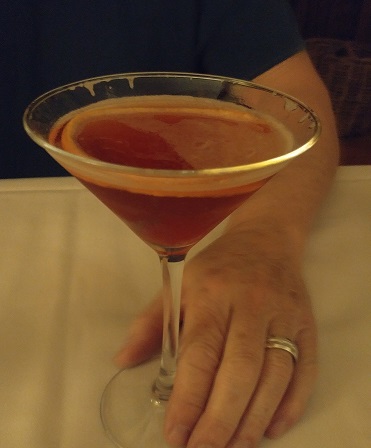 Then we took the drive home. It was a rainy morning, but still SO pretty. When you head up and down 101, you might want to take time to check out something called "Confusion Hill" AND there's a store dedicated to Big Foot! We are going to make a point to go to these places next time.
I must tell you, going to Carter House Inns was one of our most successful romantic getaways. We got away, but not too far away and we went to a place that we think is REALLY special.
Thank you so much to the staff at Carter House Inns. You made for a very memorable weekend that we still talk about every day.
If you want to book the deal we've been talking about, here's the deets: 
The Valentine's Couples Retreat for $450 includes a Really Nice Queen, Discovery dinner for 2 which is a five course meal from our 4 Star restaurant and roses in the guest room.
Here's the website:
Phone Number:
800-404-1390