Amber's Adventures
Taylor Mountain Regional Park
Hi! Welcome to the very FIRST Amber's Adventures. Since, this is all so new to me AND YOU, I'd like to take the time to explain the concept of Amber's Adventures. This idea first came about in my youth. Those who knew me as a child, would probably say I was very imaginative, creative and maybe even a little weird. I came up with, Amber's Adventures as a way to pass my time alone as a kid. Basically, I pretended to be an Indiana Jones-type character. Simply, I'd go on "pretend" adventures. Who knew that I'd have the resources and courage to do this IN REAL LIFE as an adult? Well, I did. I make things happen! I moved to Sonoma County on March 22, 2019 to begin my journey here on Froggy 92.9FM. I am orginally from the small town of Milledgeville, Georgia where I spent many weekends on Lake Sinclair, riding four-wheelers (or as people around here call them "ATVs"), and participating in any outdoor activities with my cousins and friends. Moving to California has always been a DREAM. I can't wait to see what all Sonoma County has to offer. Many adventures await! So, let's get to it…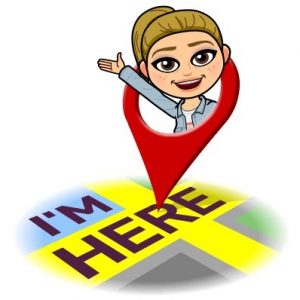 Taylor Mountain Regional Park
When I first moved here, of course I didn't know anyone. I've moved ONCE my entire life and that was to Athens, Georgia for college (Go Dawgs). How does one make new friends 3,000 miles away from home? Not knowing a single soul at all? I thought, maybe it will just happen organically and will take a few month. Nope! The first week I was on air, I get an Instagram Direct Message from someone named Sydney. She said, "Hey, I heard you have a dog. I have a dog too! I just moved back here from college and I'm trying to find some great places to take my dog. Let me know if you'd like to go somewhere!" To make a longer story shorter, we ended up at Taylor Mountain! I'm new to hiking so if you asked me where I was that day this was me: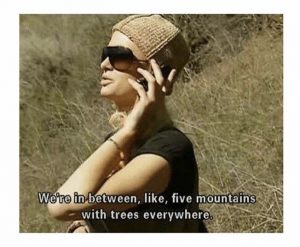 If you know anything about Taylor Mountain, and I don't, then you know there's mutitple routes. There's the Eastern and Western Routes – lead to the mountain's mid-section, with the Eastern Route continuing on to the summit for a 1,100-foot elevation gain. The Todd Creek and Red Hill trails offer "less-strenuous" hikes through lovely oak woodlands. At this point in my life, I am very out of shape so it was all the same to me. Here's a picture of my dog, Remy, pulling me up the mountain: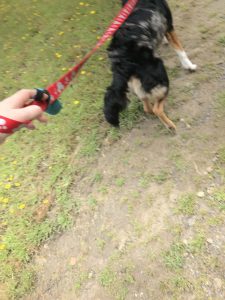 My favorite things about Taylor Mountain is the cattle grazing. Historically, the area was once used for ranching, and cattle grazing. Sonoma County Parks and Reaction has decided to continue that tradition and continue letting the cows graze. What little I know about cows is, if you leave them alone – they'll leave you alone. The little I know about cows is that if you leave them alone, they'll leave you alone. My dog, however, not a fan of the cows. Of course, he's scared the washing machine. You can bring your dogs, as long as you keep them on a leash! Cows can't distinguish the difference between your pup and a coyote, so they could become aggressive toward your dog if it's off-leash.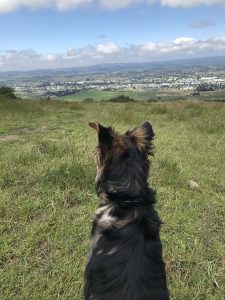 10/10, Remy does recommend Taylor Mountain Regional Park! Not only is the view incredible, but there's accessible parking, a picnic site, and portable restrooms. We paid $7 each for parking but you can always carpool. You can find out more information about Taylor Mountain HERE. Here's one more picture of Remy for good measure: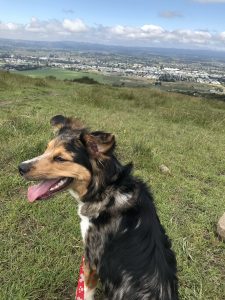 Let me know if you plan to visit Taylor Mountain or if you have an idea for Amber's Adventures by reaching out to us on social media. Follow us on Instagram

or on Facebook

.  Until next time…
"Voyage upon life's sea, to yourself be true. And, whatever your lot may be, paddle your own canoe" —Sarah Bolton