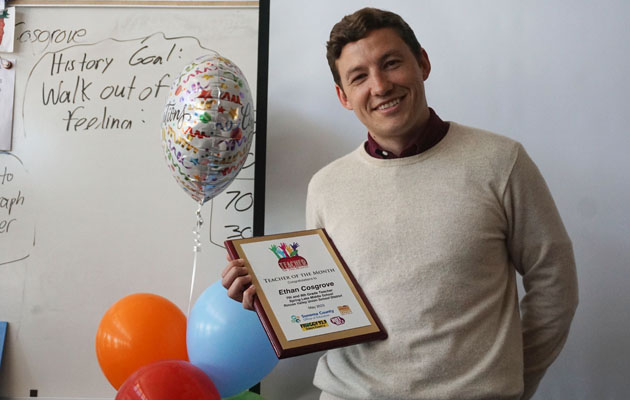 Ethan Cosgrove, a dual 7th grade math and 8th grade history teacher at Spring Lake Middle School in the Rincon Valley Union School District, was named the Sonoma County Teacher of the Month for May 2023.
He was awarded the recognition during a surprise classroom visit at the east Santa Rosa middle school campus Wednesday, May 10. The event was attended by students in Cosgrove's 8th grade history class, Spring Lake Middle Principal Hannah Bates and other Spring Lake employees, as well as Rincon Valley Union Superintendent Dr. Tracy Smith and members of her district team.
The Sonoma County Office of Education partners with Hot 101.7, and Froggy 92.9 — where nominations are solicited via on-air ads — as well as Community First Credit Union, to deliver the Teacher of the Month program. The recognition highlights exceptional educators in Sonoma County.
Principal Bates underscored the leadership Cosgrove has taken to bring meaningful school initiatives to the campus during Wednesday's event.
They include a forum that brought candidates for Santa Rosa City Council's second district to the middle school in October.
During the 2021-2022 school year, Cosgrove organized a letter-writing campaign in which students wrote to Sen. Mike McGuire about Sonoma County's homeless crisis, Bates said.
He additionally spearheaded a supply drive and fundraiser for The Living Room, a nonprofit that serves women and children who are homeless or at risk of homelessness, as well as Social Advocates For Youth, an organization that provides services to Sonoma County's at-risk youth and their families.
"He is just a crucial member of every single team that we have here and is always interested in bringing real world experiences to our kids," Principal Bates said of Cosgrove after the classroom visit. "You can see the students in his classes are just thriving because of the work that he does."
Principal Bates' sentiments mirrored comments submitted about Cosgrove to the Sonoma County Teacher of the Month contest.
"Ethan has taken on leadership roles in the district, which have allowed him to help make changes in how teachers collaborate to best meet the needs of all the students in the school, instead of just in his classes," one nomination said. "He is kind, thoughtful, and is always taking on more than expected."
Dr. Amie Carter, Sonoma County superintendent of schools, congratulated Cosgrove for receiving the Teacher of the Month recognition, applauding his proactiveness on the Spring Lake Middle School campus.
"The work that Mr. Cosgrove has done to foster student involvement in their own community and local government is truly commendable," Carter said. "When Sonoma County students know that they can enact meaningful, positive change in the world around them, we are all better for it."
Cosgrove was awarded a plaque, flowers, balloons, and a $500 classroom supply gift card from Community First Credit Union during Wednesday's event.
He is the final recipient of the Sonoma County Teacher of the Month program for the 2022-23 school year.