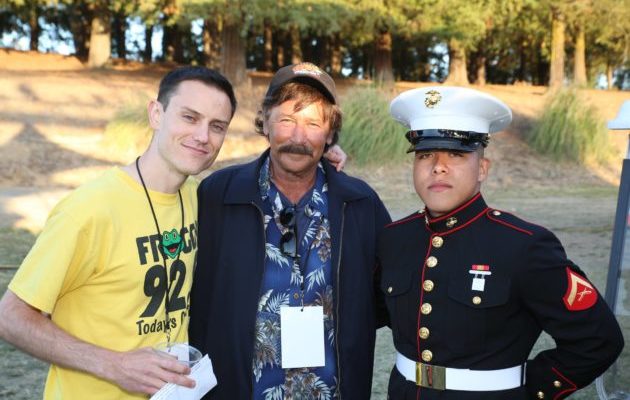 Dano, Impact Entertainment Executive Producer Alan Jacoby, and US Marine Cristian Robledo backstage at the first Country Summer, moments before Cristian proposed on-stage to his girlfriend Celeste.
Alan Jacoby, executive producer of Impact Entertainment, died Tuesday, Feb. 2, due to Covid-19. In collaboration with Amaturo Sonoma Media Group, local owner of Froggy 92.9 and other leading radio stations serving Sonoma County, Jacoby served as executive producer of Country Summer Music Festival, Northern California's biggest country music festival, since it was founded in 2014.
"It is with a heavy heart we deliver this news," Jim Murphy, vice president of Programming & Operations of Amaturo Sonoma Media Group, said. "Alan and our Froggy 92.9 team were acquainted in the summer of 2013 when Impact brought Florida Georgia Line to the Sonoma County Fair.
"After working together on that show, he approached us about teaming up to bring an annual, world class country music festival to Sonoma County. His leadership and vision were essential in making that a reality. Alan became a good friend to all of us and will be sadly missed."
Jacoby was a passionate leader and creative visionary with more than 30 years' experience in developing and executing successful entertainment and sporting event properties. Country Summer, held annually from 2014 to 2019 at the Sonoma County Fairgrounds, became a destination country music event attracting worldwide country music fans. In 2019, it attracted more than 30,000 fans representing five countries.
Country Summer, currently scheduled June 18-20, 2021, has been postponed twice due to the coronavirus, and with the current state of the pandemic, may need to be re-scheduled again. "Most importantly, Country Summer will return despite uncertainty with the dates due to the coronavirus," Murphy said. "We look forward to growing the Country Summer legacy for many years to come."