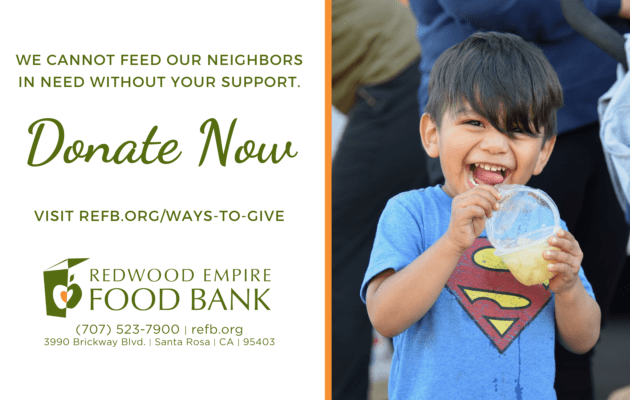 Our friends at the Redwood Empire Food Bank need your help!  Demand for food in Sonoma County has DOUBLED
due to COVID-19, and they are looking for the community's support to keep food distributions running. Here's what the Food Bank says are the three things they need:
– 
We need money.
When you donate to the Redwood Empire Food Bank, your money helps us purchase food, pay our dedicated staff, fuel our trucks and keep our lights on. Without money, we wouldn't be able to continue our operations and distribute food to those in need. CLICK RIGHT HERE
– 
We need food.
Food donations help keep our warehouse shelves stocked with non-perishable staple groceries for distribution to those in need. You can drop food off at 3990 Brickway Blvd in Santa Rosa. 
Our most needed items include Tuna and Canned Meat, Peanut Butter, Canned Soups, Stews, and Chili, Rice and Dry Beans, Cereal ,Canned Fruits and Vegetables, High Protein Granola Bars, Trail Mix or Nut.
– 
We need volunteers
. 
Throughout the year, the Redwood Empire Food Bank relies on 8,500 volunteers. With the shelter in place order, our volunteers are having to stay home and we're working hard to keep up with demand. 
If you are able to assist at this time, CLICK RIGHT HERE to get started