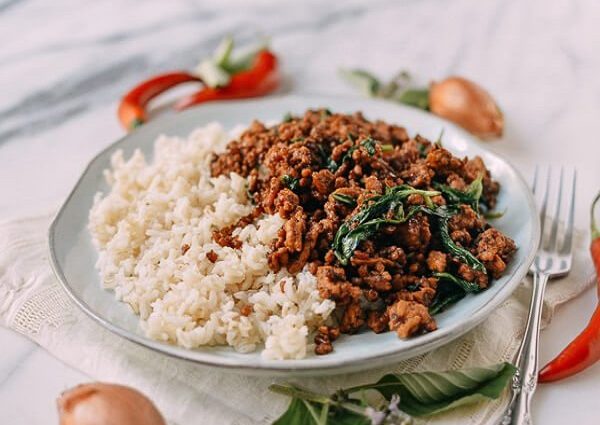 Rob and Joss celebrated the miracle in Thailand this morning when news broke of all the soccer players and their coach being rescued from the cave they were trapped in for 18 days. The number one item the boys craved was a dish called Pad Kra Pao. Rob and Joss were curious to try it – so Elaine the traffic lady who knows how to make EVERYTHING gave us her recipe!
Thai Pork Basil Stir-Fry (Pad Kra Pao)
Ingredients
– 3 TBSP Vegetable Oil (or grapeseed, avocado, or preferred cooking oil)
– 2 Shallots, thinly sliced (or 1 small onion)
– 6 Garlic cloves, chopped (or minced or sliced, if preferred)
– 3 – 5 Thai Bird or Holland chilies, thinly sliced (deseed, if preferred to reduce heat- use 3 for mild spicy and 5 for spicy hot)
– 1 LB Ground Pork
– 2 Cups Thai Basil or Holy Basil
For The Sauce
– 1 TBSP Fish Sauce
– 2 TBSP Sweet Soy Sauce (or can use regular soy sauce if you can't find)
– 4 tsp Sugar
Directions
1) Roughly chop garlic and chilies and set aside. Remove basil leaves from stems and set aside.
2) In a small bowl, add sauce ingredients and mix until sugar is dissolved. Set aside.
3) Add oil to a wok (or a sautee pan) and bring to medium-high heat. Add garlic and chili to the wok and stir fry for about 1 minute, until fragrant. Watch the garlic closely, so it doesn't burn.
4) Add pork to the wok and stir fry for about 4 minutes. Then pour sauce into the wok and stir fry until the pork is thoroughly coated for about 2 minutes.
5) Add the basil leaves to the wok and turn off the heat. Finish stirring in the basil.
6) Serve over rice.
Notes***
– If you can't find Thai Basil or Holy Basil, you can can use regular basil.
– Can substitute ground chicken, turkey or beef instead of pork (though pork is the traditional dish).
– Can also use diced tofu to make it vegetarian and add lime juice instead of fish sauce to make it vegan.
– If you can;t find fresh Thai or Holland chilies, you can use dried Thai chilies and rehydrate with a lil water… Or substitute with 1 – 2 small red jalapeno peppers or green jalapenos.
– Optional- you can fry an egg and serve it on top of the dish