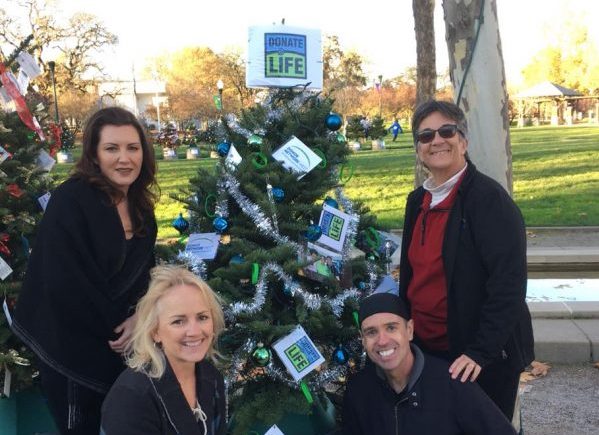 Splash & his lifelong (hopefully) cohort in Christmas glee Filbert the Kidney, joined a priceless team of fellow organ donation peeps to create the Official Donate Life Christmas Tree for the Charles M. Schulz Christmas Tree Grove populating the Windsor Town Green this holiday season.
Here's Splash to introduce the team & share his thoughts on why organ donation is so very important.
"Howdy Fine Froggy Friends. It's your favorite Elfish-Like-Hobbit (or Hobbit-Like-Elfin if you prefer) & I am fortunate enough to call Filbert the Kidney (soon to star in a major motion picture) my bestest friend ever for the last 4 1/2 years. If it weren't for the selfless act of a random stranger mindfully willing to share with the world that they wanted to save another human's life, I wouldn't be sharing these emotional words with you this very day.
In the memorable photo above, you'll find both humanitarians & recipients of generosity who know one another through the fateful bond of organ donation: (left to right)
— Veronica, who received a life saving organ donation from her Mom. (also a mad scientist tree decorator)
— Cathe, a wonderfully generous organ donor (who shared some sage advice on dealing with post-recipient guilt)
— The aforementioned elf (yours truly) whose life has been saved by his Mom and sister with kidney donations, along with a third kidney from a gracious, anonymous donor.
— Miss Lorene, who I was fortunate enough to meet a year & a half ago at the Windsor Chili Festival, and who was kind enough to invite me to pay it forward & join her once a month with Donate Life at the Windsor Farmers Market.
Thank you to all these joyous folks (lots of great stories & uncontrollable laughter were shared during the building of the tree) and to YOU for considering to be a life saving organ donor. You can find our honorary tree directly across from Lupe's Mexican Diner.
Save up to eight lives and give those in need a healthier future. Have your questions answered & register now HERE.
By the by, the Annual Windsor Tree Lighting is Thursday, December 7th @ 5pm AND the Christmas Tree Armada shines through Christmas Day!
With my cynicism for the holidays firmly buried under the foundation of Frog Towers, I bid you a very Merry Christmas."