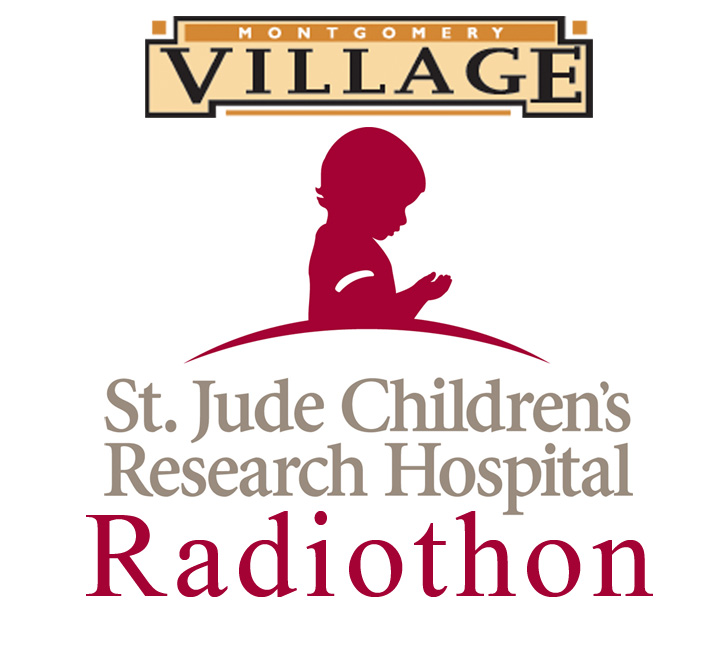 Coming up on March 3rd and 4th, Froggy 92.9 will dedicate 26 hours to a cause near to our heart-  St. Jude Children's Research Hospital.  St. Jude has saved the lives of thousands of children with cancer, many from families who couldn't have afforded proper care for their child(even more deets on how awesome St. Jude is RIGHT HERE).  The goal of our radiothon is to get every person in Sonoma County to become a Partner in Hope at 1-800-636-0595 or online RIGHT HERE.  It's $20/month on your credit card, tax-deductible, and allows St. Jude to continue their lifesaving work.
But maybe you've already become a Partner in Hope.  Or perhaps $20/month won't work for you and your family.  We still need your help!  Here are 4 things YOU can do during the radiothon that will help the kids of St. Jude…
1.  Take a Selfie:  No seriously.  It will help the kids!  We're encouraging everyone to PRINT THIS PICTURE, and then take a photo of themselves like this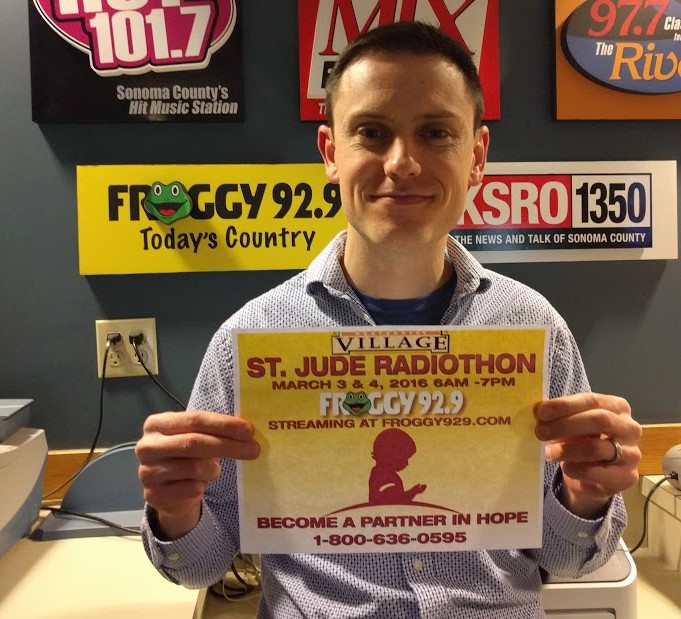 Feel free to get creative!  Whatever you can think of that represents you, and lets Sonoma County know where you're listening to the radiothon.  Listener Rebecca from Petaluma took one at work, as you can see she's got a pretty "fast" job: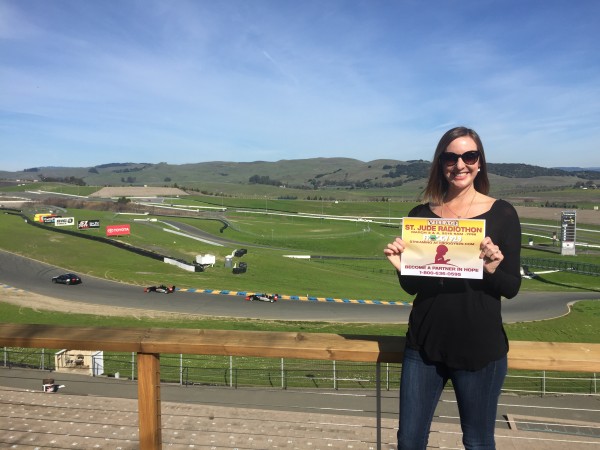 Once you take the pic, post it to any and all of your Socials on the morning of Thursday March 3rd!  As we start the radiothon, we'd LOVE to see our Newsfeed FULL of people showing off their love for St. Jude.  HERE's the ST. JUDE SIGN for your PIC!  Just save, print and click.
2.  Volunteer in the Sonoma Backyard Phone Bank:  When you call 1-800-636-0595 to become a Partner in Hope, you go straight to our local phone bank at the Froggy studios on Farmer's Lane.  The phone bank is generously sponsored by our friends at Sonoma Backyard!  And everyone you speak with is donating their time to help the cause.  If you'd like to volunteer in the phone bank, go RIGHT HERE.
3.  Listen to the Radiothon:  Put it on in your carpool at 92.9 FM.  Stream it at your desk RIGHT HERE at Froggy929.com.  Listen on your tablet with the TuneIn Radio app.  However you have it on, just listening to the radio helps!  You'll learn about the amazing work that St. Jude does and discover some amazing stories as Sonoma County people step up to help.
4.  Tell Someone About the Radiothon:  When the Barista asks you 'What's going on?'  When your Mom calls and asks 'How are you doing?'  When an old friends tweets you 'SUP ;-)'.  Tell them about the Radiothon!  St. Jude is able to save so many lives because the people who believe in it continue to tell their story.  Tell someone about St. Jude's lifesaving work, and encourage them to check out the Radiothon on 92.9 FM or stream it at froggy929.com.
5.  Thank Our Sponsors:  It takes a village to make the Radiothon happen…in this this case, Montgomery Village!  For the 3rd year in-a-row Montgomery Village made a generous donation to be the title sponsor of our Montgomery Village St. Jude Children's Research Hospital Radiothon.  Sonoma Backyard and Platinum Chevrolet also stepped up as sponsors.  Send them a message, tweet them or stop in and say THANK YOU!  These are businesses in your community who believe in HOPE.  Let them know you appreciate them!



These might seem like simple things, but believe it or not, you'll be helping kids beat cancer!  See you March 3 and 4 for the Radiothon.