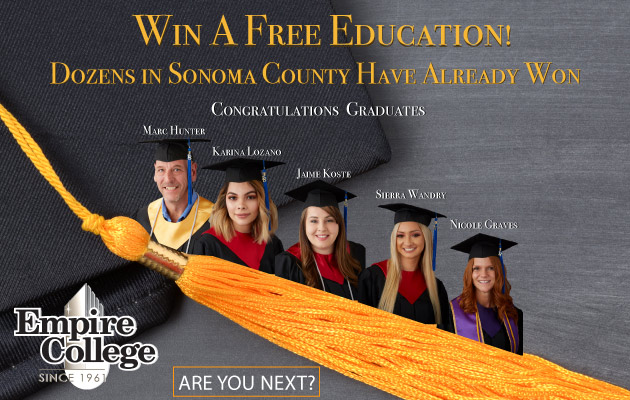 A quality education from Empire College can lead you to a bright future in the fields of legal, healthcare, information technology, accounting, business, and hospitality. Empire College is giving you another opportunity to get that education for FREE. That's right! Now's the time to GET INSPIRED and become the success you know you can be, for FREE! In as little as 8 to 21 months, you can complete your education! Learn more about Empire College's programs RIGHT HERE at EmpCol.edu.
Please complete and submit application by July 31, 2018.
RULES:
Free tuition for any of Empire College School of Business's diploma or associate degree programs (books and supplies not included).
Recipient must meet program eligibility requirements: high school diploma/GED equivalency and entrance exam score for the selected program.
Recipient must begin classes by December 31, 2018.
Recipient understands that Empire College and Amaturo Sonoma Media Group have the right to use the winner's voice and likeness on the radio and other media.
Entrant understands that by submitting their contact information, they are expressing interest in a tuition-free 2 year degree from Empire College and all applicants will be contacted by an Admissions Officer for further information.
Entrant understands that Empire College will select ONE recipient of a tuition-free 2 Year Education Degree and may offer multiple grants based on applicants' stated commitment to their education, goal to succeed, and financial situation.
Current students and employees of Empire College are ineligible to enter.
Recipient will be selected based upon interview with admissions staff, stated career goals, commitment to education, and financial situation.