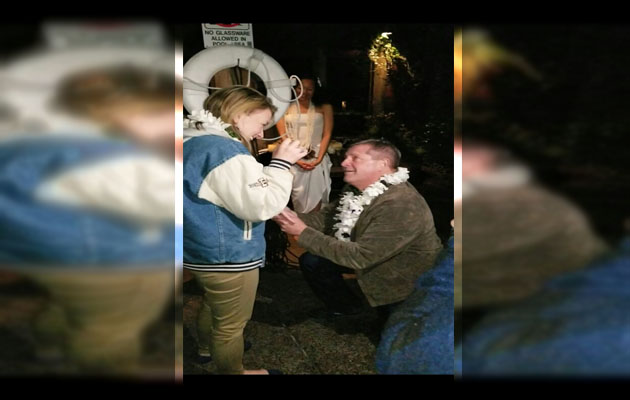 ***BTW – please excuse the expletive at the beginning of the video. I left it in…cuz that is pretty much my honest reaction!
So – here's how it went. It was the weekend of our Amaturo Sonoma Media Group Delayed Holiday Gala. It's honestly a weekend of great anticipation. Our parties are GREAT. A great bar, food, fun, music, karaoke and super nice people. It's good every year (thanks bosses!) I never, ever, ever thought that this would be the weekend that Rob would pop the question.
Most of the company stays overnight at the Inn at the Tides on the Saturday night, but Rob and I like to make a whole weekend of it and get there on Friday and lounge around a bit. So, we had a plan. We were going to get to the room and have a little drink and then go down to Lucas Wharf for drinks and dinner at our favorite table. Then, we'd come back and if there was nobody in the hot tub, we'd get into the tub for a bit. Then, we'd go back to the room and I would fall asleep while Rob watched TV. That was the plan. That's how I knew in my head it was going to be.
Here's what REALLY happened.
We start driving out to the coast (after a bit of a late start. Rob was disturbed about the late start. I was like "DUDE! Relax! We're not on any schedule!" Little did I know.
Rob says "We need to stop in Bodega so I can text my sister and remind her that we're going to the coast for the weekend." Rob's sister was with Rob's mom for the weekend (since Rob's mom lost her house) So, we pull over in Bodega. I think Rob is texting his sister. He is REALLY texting my best friend, Amanda to be sure that we don't run into her checking in at the hotel!
We carry on and go to the room. We check in with no incident and we get into our room. Rob was SO SWEET it was FREEZING and I was getting over a cold, so he brought ALL of our bags upstairs to the room along with the four pillows and blanket that I brought (I am kind of a
"Princess and the Pea" if you know what I mean) I told him he got an "A" in the "Relationship Report Card" (which is a feature we do on Monday mornings where we give each other a grade) JUST for bringing everything up!
We had a couple of shots of tequila and I put on some make up. I was starting to get HUNGRY. It's NOT GOOD when I get HUNGRY. JOSS MUST BE FED. Rob had wanted to go to dinner at 6, cuz this would have been good for his plan. But there I was with my HANGRYNESS screwing everything up! SO – we went to dinner at 5:15. Rob texted Amanda, "Well…she's hungry!!!!"
We went down to Lucas Wharf and had some cocktails and these AMAZING bbq oysters (well, I did. Rob doesn't like oysters…feels like they're boogers) He was so funny. He wanted ONE specific table and there were already other people at it. Rob goes "we can wait!" I am like "Well! Ok! sure!"
Our table was ready and we had a great dinner. Desert came around and Rob had key lime pie and he asks the waitress for coffee and I go "NO! You can't have coffee! It will keep you UP ALL NIGHT!" If I had any idea of what was to come, I would have let him have the coffee!
After dinner, Rob goes "I want a cigar! Let's go get a cigar! Then we'll find a place to smoke it!" I was like… "well… I think it might be illegal to on the beaches? But I dunno…ok…sure!" So he gets his cigar and then we go for a drive ALL OVER THE PLACE. We even went to the other side of Bodega Bay where they were trying to build a nuclear plant back in the day! Truth be told, I was enjoying the drive. There were some good songs on the radio, I was singing along…I had no idea we were going on this crazy drive to KILL TIME!
We get back to the Inn at the Tides and Rob goes "Well I need to pee" I am like "Ok…let's go to the room and pee!" THEN he actually TURNS THE CAR AROUND and leaves the Inn! I am like "Where are we going!" He goes "Well I have to pee RIGHT NOW!" I am going "Well you could have been PEEING IN THE ROOM if we had stopped there!" Why did he do this? He realized that the clock in my car was 6 minutes fast and that we needed to be in position at 8pm sharp!
We went across the street to the Tides Wharf Restaurant where he peed. I waited in the car a little bit baffled by his weird peeing habits.
Then, we went back to the Inn at the Tides. He wanted to check out the hot tub and if there was nobody in it, we were gonna go in. I actually was kinda tired and cold and I had a cold at the time…so I sorta just wanted to lay down. But I slogged into the pool area just the same.
We got in ad the hot tub was empty, but in the dark under the overhang, I saw all of these people milling around. I thought "Well…the hot tub is empty, but we can't go in with all of these people!" I thought they were tourists or people who were part of some business seminar.
Rob goes "Well, come here…you might know some of these people" As I got closer…I heard the "Hawaiian Wedding Song" playing, our wonderful co-worker Mike came up special to play that song for us. He did a beautiful job. Then, I started to recognize people that I knew. Rob's kids and sister, my friends, my parents and members of the Froggy Family. OH MY GOD (I said that a lot…sorry) I knew what was about to happen…
There was a Hawaiian dancer who performed the most beautiful lei ceremony for us. She was beautiful and the ceremony was beautiful. You don't see that part in the video, cuz it's a little hard to hear. But she was amazing. Her name was Lisa.
OH! And why the Hawaiian theme? Cuz we are aiming to get married in Hawaii in 2019.
There I was in my Eeyore jacket (I forgot to bring a decent and adult looking jacket to the coast!) and Rob proposed…it was the greatest proposal I ever saw…and it was MINE! Rob said "Will you marry me?" and I was so taken aback, and shaking and breathless…all I could muster was "Yeah!"
BTW – my parents are incredible liars. They live in Arizona and they told me they were going to Sedona for the weekend. We even talked that day and they were like "OH! We're about an hour outside of Sedona! We'll send you some pictures and we'll Skype on Sunday!" We actually parked NEXT TO THEM in the parking lot and I didn't even realize it was their car. Amazing.
To my wonderful family, friends and coworkers who were there. I know it wasn't easy getting out there in the dark and standing in the cold…I adore you ALL for being there. There aren't even words enough to thank you. I am so humbled.
Rob to you, my love. There are no words. Great, amazing, incredible proposal that every woman dreams of. I love you.