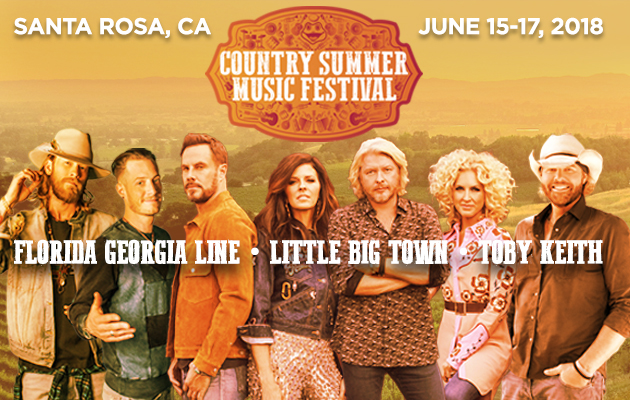 You ready to find out who's bringing the party next summer?
Florida Georgia Line.
Little Big Town.
Toby Keith.
YES!
And you may not realize it, but FGL is actually one of the reasons Country Summer started in the first place.  Here's the full story in a press release from Country Summer:
Country music superstars Florida Georgia Line, Little Big Town and Toby Keith will headline Country Summer, Northern California's biggest country music festival and Sonoma County's biggest party, June 15-17 at Sonoma County Event Center at the Sonoma County Fairgrounds.
Celebrating its five-year anniversary in 2018, Country Summer has evolved into a colossal three-day destination country music event, featuring 20 performers on the Chevy Silverado Stage, plus popular local bands on a second stage between main acts.
Back in 2013, Alan Jacoby, executive producer of Impact Entertainment, and Lawrence Amaturo, owner of Amaturo Sonoma Media Group, owner of Froggy 92.9 and other radio stations serving the local area, teamed up to produce the Florida Georgia Line concert at the Sonoma County Fair.
It was the fair's first-ever sold-out concert, which gave them an idea for a new country music spectacular. Their idea became the Country Summer Music Festival. Fast forward five years and it's fitting that Country Summer pay homage to Florida Georgia Line, its inspiration.
Little Big Town has been on our headliner wish list since year one and we are stoked to have them!
Toby Keith is one of the biggest country music stars and we are excited to have him take the stage at Country Summer 2018!
While country music artists are the main attraction, great festivals are more than great music. With shopping, experiential activities, a variety of culinary delights and an array of libations — from Anheuser-Busch beverages for beer drinkers, to spirits at the Jack Daniel's Saloon — Country Summer has amassed a loyal fan base, locally and from across the country. In 2017, it attracted more than 30,000 fans from 34 states and four countries.
Country Summer gates open at noon, and music begins at 1 p.m. each day of the festival. Remainder of the lineup and schedule will be announced in January.
Three-Day Passes, starting from $239, are on sale now. To purchase tickets, click HERE, visit the fairgrounds box office or call 800-514-3849 to order by phone. A portion of ticket sales will support fire relief efforts.