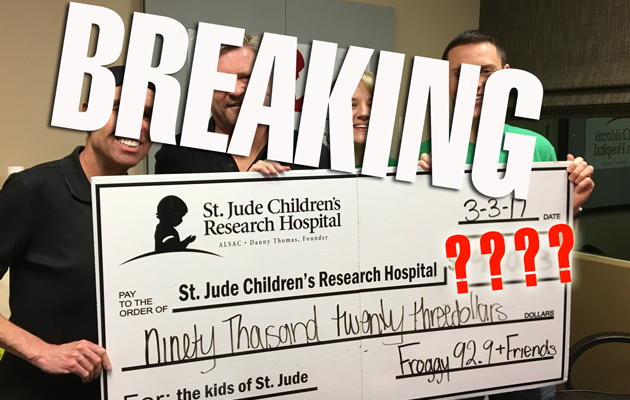 The radiothon was done.  Until it wasn't.
The Froggy 92.9 staff was elated at the success of the Montgomery Village St. Jude Radiothon presented by Platinum Chevrolet on March 2nd and 3rd 2017.  Sonoma County listeners and business stepped up big time and helped us set an all-time Froggy record of $90,023 raised .
Things seemed all wrapped up until Dano found an envelope in the station mailbox.  He opened it up live on-air with Rob & Joss in the Morning, and the air staff was speechless.  It was…
A $10,000 CHECK FROM G&C AUTOBODY!
Here's how it went down on the radio:
G&C Autobody heard the stories of listeners support and families in need, and wanted to push the total past the magic six figure mark.
"$100,000 has been my secret goal this entire time," says Froggy afternoon personality Dano.  "Every time we reveal the check at the end, I was hoping for a one and five zeros.  We were at $56,000 just 3 years ago.  I am on Cloud 10 right now that Sonoma County is supporting such a powerful place."
"Thank you thank you to the Crozat family and G&C Autobody!" said Froggy midday personality Splash.
So here it is, your new grand total for the 2017 Montgomery Village St. Jude Radiothon: