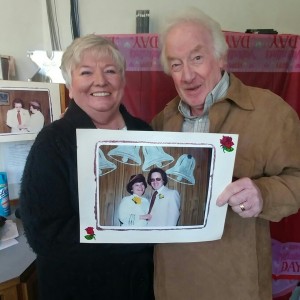 Joss' Parents Renew Their Vows!
On Valentine's Day, Joss Parents (NASCAR Dad and Michelle) will be married 40 years! So, they've been chosen as our "Kick Off Couple" for "Walk Thru and Renew!" They will be on with us on Valentine's Day between 7 and 8 to renew their vows with officiant Rose Barboza (weddingsbyrosebarboza.com)!
(BTW – YOU Can renew your vows too! Get details on "Walk Thru and Renew" here.)
Hear Joss' Parents Vow Renewal Here!
Here's the Video of Joss' Mom and Dad's Vow Renewal!
NASCAR Dad "Reproposed" to Joss' Mom in this clip:
AND we see how well Joss' parents know each other in this clip! You won't believe where they went on their first date…beware, it's slightly "adult"